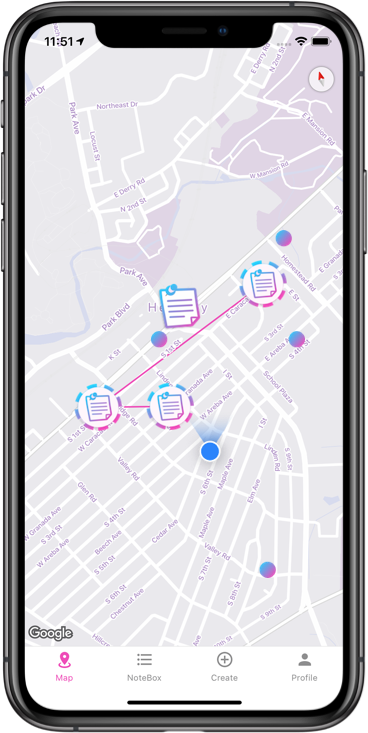 A mobile app to place location bound digital notes (audio, photos, and text) for your friends and loved-ones to find in the real world.
Now Available on Apple and Google app stores! #connectbetter
A ChalkNote is an experience that transforms your message into an adventure for your friends and loved ones. Send messages down the block or across the world.
It's a fun way to connect and keep active that is personal and meaningful.
Two or more notes can be connected into a self-guided trail turning the everyday walk into an experience where you can share the same space even when you can't be together at the same time.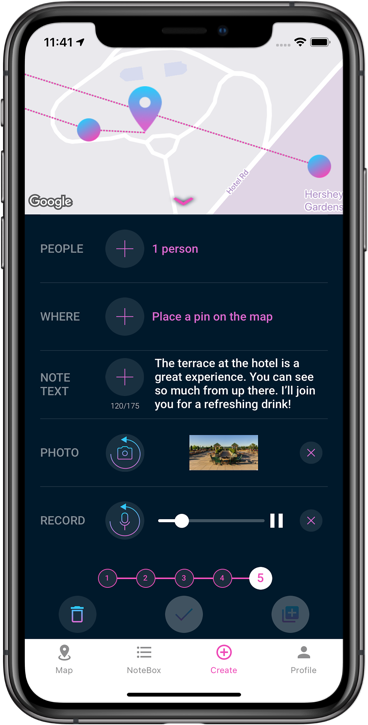 Place a note from anywhere in the world
Even if you can't be there at the same time, you can share a space with a friend whenever you want! Things remind us about the people we love every day, now you can place a note and share the moment that inspired you. Strengthen your community by connecting people and places.
Place a trail of notes to lead your friends
Whether it's an exercise challenge, your favorite paintings in a museum, or sharing your thoughts on a guided walk, you can connect notes to curate an outing for your friends. You can spend the afternoon together, virtually, from wherever, whenever. They can share that experience whenever they want.
Find messages from experts and influencers
Your friends aren't the only ones placing notes out there. Knowledgeable people, organizations, and eminent personalities are placing notes all the time to give you new insights, experiences, and recommendations about the world around you. You can follow your favorites or just roam and find what's interesting.
Everything you need to create a note is in the app. Leave a photo from your gallery, write up to 175 characters, and record up to 2 minutes of audio. And link up 5 notes to make a trail. Leave as many notes as you like. Your friends have 7 days to find them.
When you can't be there, you can still share an experience in the real world with ChalkNotes…
Using the science of EMF (Episodic Memory Formation) you can tie the sights and sounds of a real place to your message and observe it transform from a message into a strong, lasting memory. Our app is designed to connect you to the people and places that matter most. You can now experience the real world in a more emotionally dynamic way!
If you want to send a message with real impact, place a ChalkNote!